Living with Casts:
Anthony amazed us with his ability to cope with the plaster casts. He was able to thrash his legs around no problem! We are sure that the casts strengthened his leg muscles. He would lift his legs up really high and bash them back down again because he loved the noise they made!
Anthony lived in vests practically the whole time he was in casts. It was too cumbersome trying to get clothes that fitted. Also, it was summer, and we tried to keep him as cool as possible.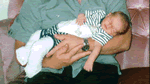 Anthony's casts slipped a lot – we knew it was important not to let his feet stay in slipped casts, so we were constantly checking to make sure we could see all of his toes – we had to make numerous trips to hospitals in order to get the casts changed every time they slipped.
Baths were a no no! We tried covering the casts in clingfilm, carrier bags etc., but gave up. He just had washes with a sponge instead.
Often the padding at the top of the casts would come loose, so we had some spare which we would tuck around the top of the cast if we needed to.
Living with the Ponseti AFO (Mitchell Brace)
Once again, we are surprised at how Anthony copes with the brace. After the first day, he had no real problems at all. He wore the brace full time for 3 months, then gradually we reduced the hours down until now he is wearing the brace 12-14 hours a day.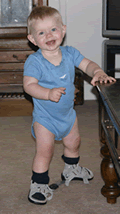 One of our biggest highlights was taking Anthony to Sainsbury's and sitting him in a trolley! This had been impossible before.
Clothes – Anthony lived in nothing but vests and baby suits without feet.
It was lovely to give Anthony a cuddle in the first 3 months when he had his hour 'free'. It felt strange as there was no plaster casts or brace in the way!
We found a highchair by Sven which had a detachable bit at the front, so we could sit him in the highchair with his brace on.
Anthony learnt how to crawl and turn with his brace on. He can now even climb up some stairs with the brace on.
We've had to pad the side of Anthony's cot, as he used to wake himself up with the noise when the brace hit the side of the cot. Occassionally, his foot would get caught in the bars too
All in all, it has been a complete joy to watch our son (and baby brother) cope with his condition. He has been a source of immense pride and inspiration to us. He is now starting to try and take steps on his own. Words cannot explain what a pleasure it is to see him on his feet, with no pain, and being completely normal.