Anthony's Treatment
March 04 - Found out at routine 20 week scan that baby had clubfeet
Referred to St George's hospital in Tooting for further scans and amnio test – 2 weeks later, all test results clear
At 30 weeks, had further scan to see if any signs of neurological damage – clear
Did tons of research – mainly on the internet – decided we wanted our child to be treated using the Ponseti method
Sought out a Ponseti trained consultant – met with him and he agreed to treat our baby when he was born
Began to feel hopeful that our baby would one day be able to walk
The birth
Felt absolutely terrified about how I would feel when I saw the baby
Scared I would 'reject' him when I saw his deformed feet
This worried me more than anything else
But he was absolutely gorgeous!!!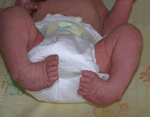 Round 1 of treatment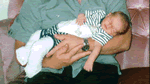 Treatment started when Anthony was 2 days old
Weekly casts for 8 weeks
Many casts slipped & needed redoing
We began to have concerns at about week 5
Tenotomy / 3 week casts at 7 weeks
Casts did not look as expected – frequently slipping
Feet could barely be abducted
Very limited dorsiflexion
Progress had stalled, yet we were preparing for a tenotomy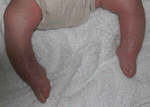 We felt our concerns were not taken on board – and that we were considered as troublesome internet parents! ….So we emailed photos to Dr Ponseti in America
Response from Dr Ponseti:
'Atypical clubfeet' was not something we had come across before in our research – we were worried, but glad someone had been able to address why Anthony's feet were not responding as expected
Our consultant had not recognised that Anthony had atypical clubfeet – so tried to carry on in the hope his feet would improve in the boots and bar –we were glad we spoke to Dr Ponseti when we did, and did not try and get 'uncorrected' feet into Markell shoes
We were thankful that there was someone who hopefully would be able to help Anthony ...
more...